The IT industry is described as a forerunner of more and more new, sometimes quite sophisticated employee benefits. Multisport Card or private medical care have almost become standard, especially in large companies and corporations. The fact that companies are offering more and more extensive packages of various amenities is, to some extent, an inevitable response to the expectations of candidates and employees. The truth is that employees attach importance to non-wage benefits – they are considered a factor influencing their professional choices. Wanting to compete for the best, employers bet on a variety of benefits that will boost their attractiveness.

From this article, you will learn how to meet the needs of employees when creating a benefits portfolio.
Employee benefits – what exactly are they?
Benefits are defined as non-wage forms of compensation received from the employer in addition to the salary paid to the employee, as part of the contract. They have an impact on the sense of appreciation, motivation and building employee commitment, as well as brand image. Among the most popular benefits are medical packages, insurance, sports cards, or funding for tickets to cultural or entertainment events. Which non-salary benefit is worth introducing depends on a number of conditions, such as the age of the employees, the location of the workplace or the offer of the competition.
Our approach to employee benefits
The benefits we offer are related to our values and our organizational culture. Above all, they're meant to respond to the needs of employees, supporting their work, development, interests, and well-being. We try to keep our finger on the pulse – in a satisfaction survey we regularly ask which benefits are appreciated the most. We are open to feedback, and we try to test new ideas – recently it was remote classes in yoga and relaxation techniques. They attracted quite a few participants and generated such a positive response that we decided to continue them.
Information on benefits is presented during recruitment, and their description is also available on our website. Detailed instructions are also given to all new joiners. Benefits-related information is compiled in the company's compendium of knowledge, which is in daily use.
Work organization benefits
Flexible working hours
Regardless of your family situation or lifestyle, flexibility is useful for everyone. We understand this perfectly, which is why our working hours are flexible. You can start your work both at 7:00 a.m. and at 10:00 a.m. – it all depends on the arrangement with your supervisor(s). The most important thing is that projects are completed on time and with good quality. In order to facilitate communication and day-to-day functioning, we have designated Core Hours during which we should be available to colleagues – this is the 10:00 a.m. – 3:00 p.m. slot.
"For me personally, working remotely at SolDevelo has made life easier. I don't have to take a day off to get things done at the city hall and I don't waste time commuting. The time I save is used to develop my passions after work."

Michał Kowalewski, Customer Care Specialist
Paid lunch break
A benefit that is in common use, allowing you to stop for an hour in the daily rush. Good for body, spirit, organization of the day and overall well-being.
Remote work
Quite a few organizations are limiting this possibility – but for us it is one of the conditions for a flexible, modern approach to employees and cooperation. We adopted this model even before the pandemic, and so far, the majority of employed people are using it. We are prepared for this both in terms of logistics and organization, as well as remote team management. At the same time, all employees are always welcome in the office. Regular office visits and face-to-face team meetings are encouraged by the integration and delegation budget available to each team.

Learn more about how our employees perceive the remote work at SolDevelo.
Integration benefits
Integration meetings – company-wide and project-based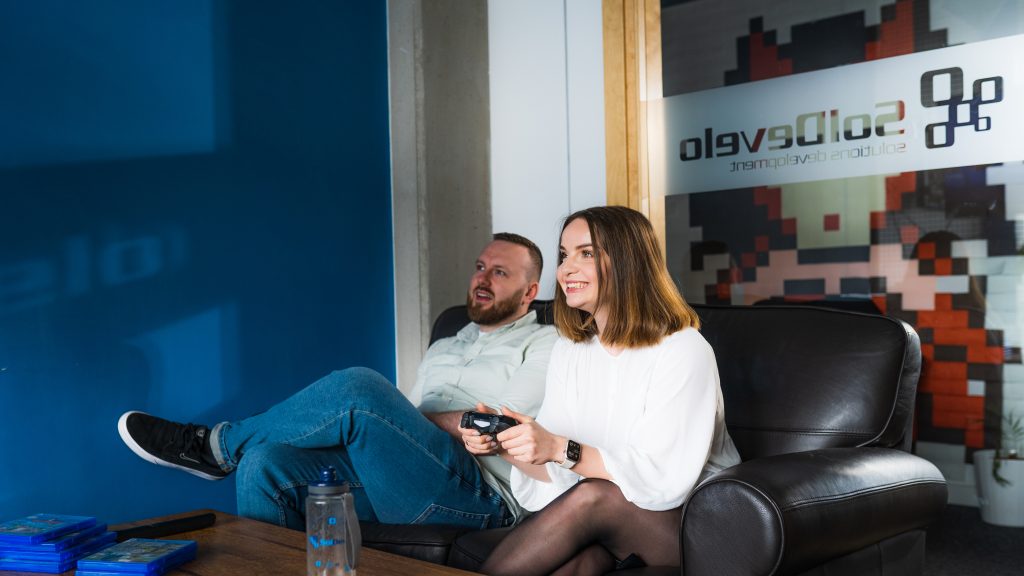 We like to not only work, but also have fun together. One way we take care of our relationships is through regular integrations. Twice a year we hold a company-wide event (around Christmas and in the summer), and on average once/twice a month integrations within smaller teams or projects. The most popular are evenings with good food, and board and party games, the collection of which we are proudly growing. We also enjoy bowling, laser tag and other games with a hint of competition. Employees' ideas for spending time together are financed by a special integration budget.
Social Room & Ping-Pong Room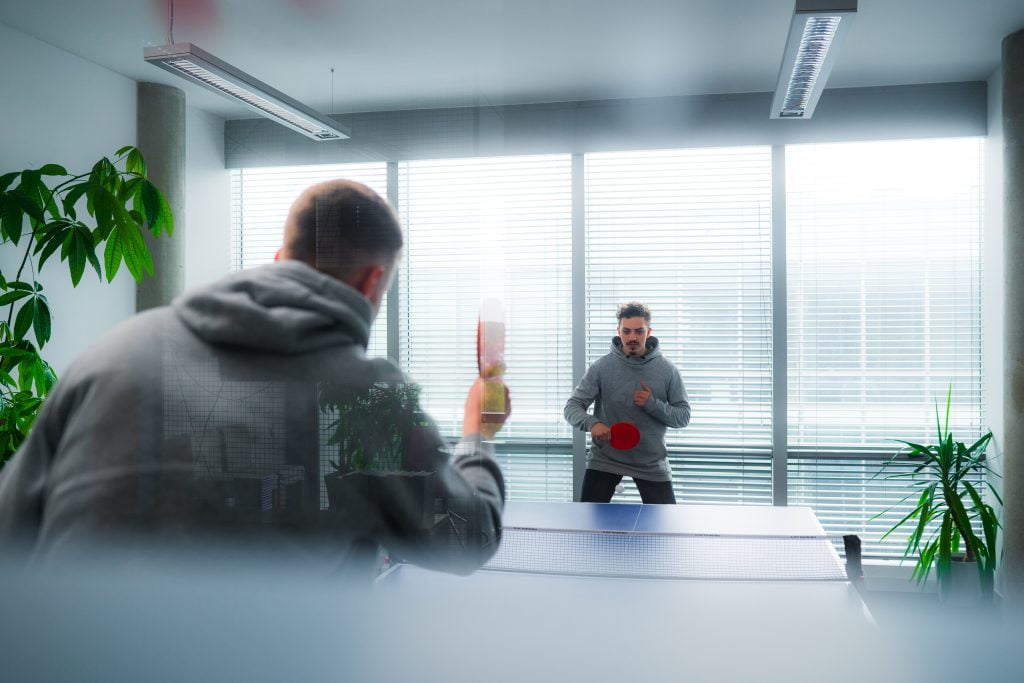 These rooms are designed for pleasant breaks: relaxation or an activity that gets you in a good mood and gives you energy. Everything here is shared – drinks, cereals, board and console games. You can play table tennis, write on the wall with chalk, doodle with markers on the glass, or have lunch with a larger group.
Health-related benefits
Sports and activities
What's better to build teamwork in a fun and healthy way than engaging in sports together? Currently there is a SolDevelo soccer team, playing recreationally every Wednesday at the hall in Gdynia. We are open to creating more sports teams! Additionally, one of the benefits we offer is the Multisport Card endowment, also available for accompanying persons.
Private medical care
Because health is the key! Our employees can choose from a variety of packages, including one that applies to immediate family members.
Remote yoga classes
Back pain, numb neck – we know well the discomfort caused by working for hours in a sitting position. For the sake of our employees' form and health, we organize remote classes, during which a yoga trainer teaches us simple exercises as well as breathing and relaxation techniques that can be performed at your workstation without the need for a mat or other equipment. The classes are designed to improve overall fitness and well-being, improve mobility in the joints, strengthen the body, bring relief, while also taking care of conscious breathing, relaxation and rest.
Benefits for the development of competencies and interests
Budget for skill development
Development brings great satisfaction and motivation to work, so one of our crucial benefits is a budget for various development activities. It amounts to up to PLN 12,000 per person! You can use it for online training, courses, certifications, studies, depending on your plans and ideas for your career path.
Kindle e-book reader + monthly budget for buying e-books
As is widely known, reading supports development, which we strongly focus on. That's why an Amazon Kindle e-reader awaits each of our employees, along with a monthly budget for ebooks of their choosing.
Company library
Speaking of reading, we also take care to equip the company with industry-specific reading. Employees can submit valuable titles that would broaden their horizons or be helpful at their work – and we are happy to enrich the company library with these books.
Budget for cultural and sports events
We want to make a contribution to ensuring that employees spend their time after work in the way they like: actively, having fun, experiencing culture – there is a wide range of options that we subsidize!
Time for self-education
We also make sure to provide adequate space for self-development. This means that each employee can devote 4 hours a month, within their working hours, solely to self-education using online courses. After completing a course, an employee prepares a review, which then is posted on the shared SolDevelo Q&A platform.
English lessons
Fluency in English is fundamental to us. Any person who has a need to brush up their skills can benefit from us financing English lessons. The annual budget per person is PLN 1,000, and can be used either for in-office lessons organized with a native speaker or for individual lessons.
Benefits to support the household budget
Christmas packages
These make the atmosphere even more festive and special, and make organizing the holidays a little easier.
Bill surcharge
Due to the use of the remote work option, our employees can count on additional payment for their bills.
Employee referral program with financial bonus
Internal referrals are an opportunity to build a competent, close-knit team. We are open to referrals from friends, acquaintances, relatives – and we return the favor with financial reward.
Company blog
We value your knowledge and are happy to reward you for sharing it by writing articles for our blog. In this way, we want to strengthen the motivation of employees to show their skills and experiences to the world. And if you're not familiar with writing texts, don't worry! Our content writer has got your back.
CSR-related benefits
Participation in charity events
As one of the company values says, we want to make the world better. And since we can do more together, we do it as a team, organizing campaigns such as fundraisers for an animal shelter, a book fair for a reading room in need, Noble or Solidarity Box. The real support that can be provided to those who are in a difficult situation and the satisfaction that comes from working together motivate us to undertake valuable initiatives, which you can learn more about on our LinkedIn page.
Benefits designed for you
In our approach to benefits, we focus on quality, but also diversity – after all, we are a large team composed of people with different preferences. We believe that the benefits we offer fulfill their role and respond to the needs of employees, supporting their work, development, interests, and overall well-being.
If you're interested in joining our team and becoming a part of something great, check out our Careers page.