A comparison of popular time-tracking apps
There are no doubts: time management is crucial for every company. Realizing exactly how much time employees spend on particular projects and tasks is vital for boosting their productivity and improving outcomes. Additionally, time tracking helps to monitor project costs and profits based on labor expenses and – what's highly important – obtain necessary data for better planning and estimation of future projects.
With so many pros, it is obvious that time tracking should be incorporated for good into every (especially agile!) team's working routine. Especially, as there are so many project and time management tools available nowadays. In fact, applying project management software has already become an indispensable part of the work process in a large number of companies. And a lot of them still choose Jira.
Yes, it is indisputable: among numerous project management products present in the market today, Jira remains the most popular one. Naturally, it has a simple in-built time tracking feature that shows how many hours are spent on tasks and guarantees that you comply with original time estimates. In this way, it makes it easier to optimize your team's work on various projects and track problems that originate in the meantime.
However, apart from being simple to use, it is also often perceived as too… simplified. For many Jira users, its time tracking function is just not enough.  Of course, reports included in Jira's native time tracking functionality can be helpful for basic use – but if you need more sophisticated data, using integrations with advanced time tracking software may turn out to be a better solution. Luckily, Jira is a tool that easily integrates with plenty of useful apps.
It is enough to say that every such integration has multiple advantages. In the case of time report apps, users are able to record hours spent on various tasks more accurately and get a more realistic insight into the team's time management behavior patterns. When you explore the Atlassian Marketplace in the search for time tracking apps, you will come across an impressive number of them. Among others, you'll find there SolDevelo's "Worklogs – Time Tracking and Reports", one of our bestselling products, providing you with valuable knowledge on your team's efficiency and enabling correct estimates. But what does differentiate it from the competition? What are its strongest sides? Is it good for every team's needs? And, finally, how can we choose the best app that fits our workflow and requirements?
Here's our comparison of 3 top time report apps for Jira:
Tempo Timesheets -Time Tracking & Reports
User Score: 3 stars 
There are no doubts: Tempo Timesheets is the #1 Jira time tracking app since 2010. It is proved not only by the number of active instances customers have installed this app in but also by the fact that its creator, Tempo, is the market leader in automated time tracking and resource planning solutions.
"Tempo Timesheets – Time Tracking & Report" allows users to pull reports on their logged time so that they can use that information for accounting or invoicing purposes. The app easily tracks all billable time for invoicing and helps to measure and report on CAPEX and OPEX with precision. Users can build custom reports to support operational needs such as R&D tax refunds. With the use of Tempo Timesheets, you can create accounts and map them to the appropriate customers, as well as map projects and issues within these accounts. When time is logged on a Jira issue, it will automatically be associated with an account, providing data for reporting and bookkeeping.
When a user wants to track time on a given task, they create a time entry, which fits into a weekly calendar view on what is called the My Work page. Each time entry is associated with an existing Jira issue. Tempo Timesheets allow you to build granular reports in seconds and drill down on the chosen elements to get the detailed information that is needed.
Thanks to Tempo Timesheets reports, you can sort, filter, display, and edit issues and working information in the way you want. You can find out e.g. how many hours have been logged on a specific customer account or what tasks have been prioritized over others. The data can be saved, printed, and exported to different file formats (PDF, CSV, etc).
Tempo Timesheets pricing starts at $10.00 per month (in the case of 10 users). When there are 11-100 users, you will pay $3 per user per month. There's a free 30-day trial.
In the reviews, users generally perceive the app as flexible and praise it for accommodating most of their needs. They like seeing which tasks they are asked to do, how much time they've spent on them, and the overall status of all of the projects their company is working on. However, some claim that the Excel export feature could use some improvements so that users could customize the layout and data to be exported. Besides, in the reports there is no option to sort users by location – and this is especially important for companies with multiple locations. Users also report some problems with the integration between Jira NextGen projects and Tempo.
 Worklogs – Time Tracking and Reports
User Score: 3,5 stars

Worklogs – Time Tracking and Reports by SolDevelo is the newest product on this list – and also the highest-rated one. Its main function is to track the time logged in projects by team members and help you recall what task you tackled yesterday, last month, or even a year ago.
Thanks to "Worklogs – Time Tracking and Reports", it is possible to easily track the time being spent by team members on Jira issues. The app allows grouping the data by days, weeks, months, or years and filters it by any combination of date range, projects, users, groups, or standard Jira filters. In this way, you can generate flexible and customized reports with your favorite groupings and get the right data. The customized Worklogs reports can be then exported in the XLSX format.
One of the biggest advantages is the fact that Worklogs can be accessed through both a menu item or inserted into a dashboard as a configurable gadget. The app is known for its simple and intuitive interface. The worklogs allow you to log all your work in one place – our table view. It works for Jira NextGen projects as well.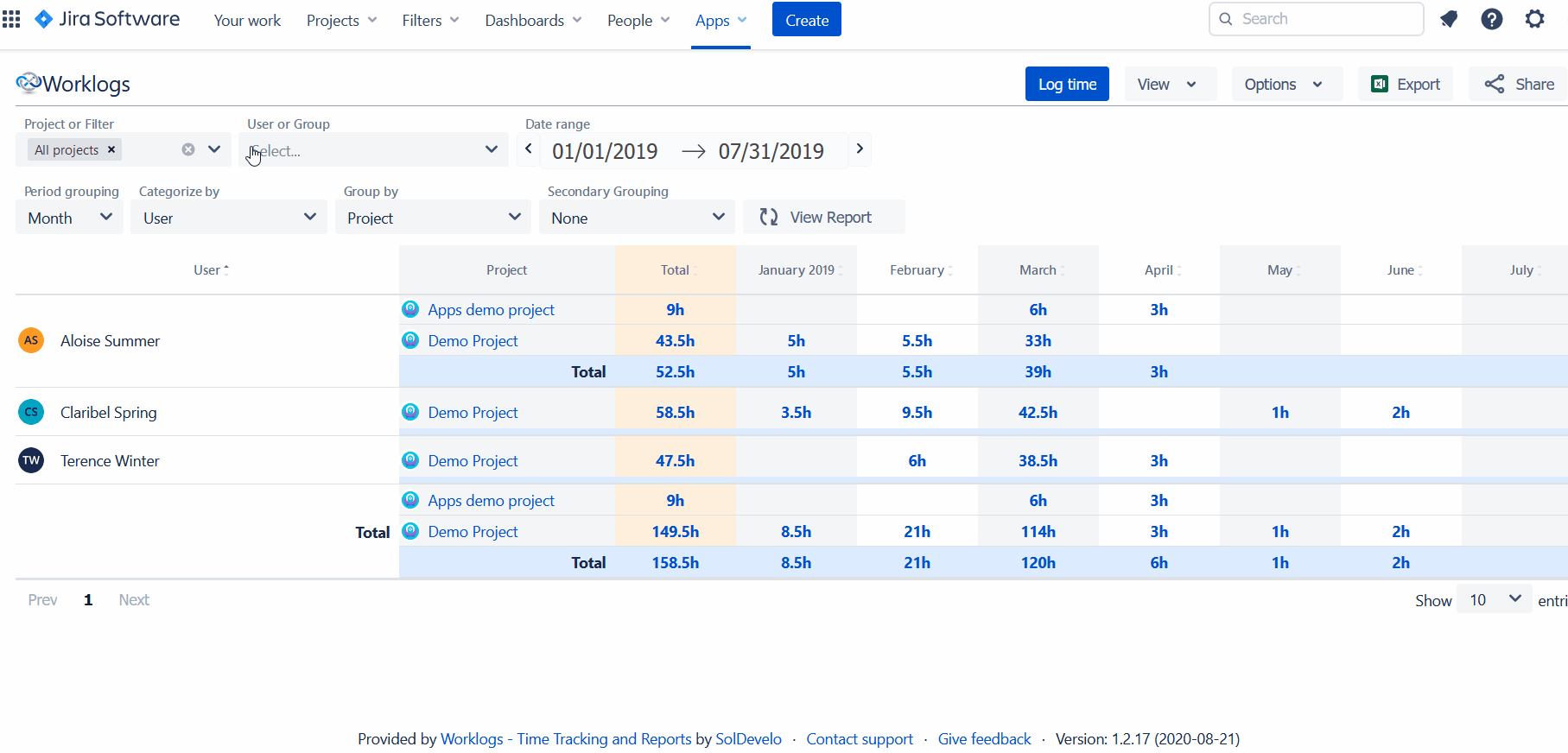 When it comes to price, you will pay a flat fee of $ 2.5 per month if you have up to 10 users. When there are 11-100 users, it will cost you $ 0.4 per user/month. A free 30-day trial is there as well.
According to users, our Worklogs is an effective and efficient time tracking and reporting app that meets most needs thanks to its customizability. Easy to use, it is praised for its transparent worklog summary view, use filters, and user-friendly layout. It allows not only to see the logged hours during the day, week, or month but also to craft more complicated reports, like, e.g. total hours logged in a particular epic each week. There are no significant bugs mentioned and smaller issues are said to get fixed by support quickly and professionally.
Timesheet Reports and Gadgets
User Score: 3 stars

The add-on is advertised as the one that "captures time spent on every aspect of the project flow and progress with extensive configurations for insights from time tracked by Jira time tracking or Tempo Timesheets." The latter is no surprise, taking into account the fact that its creator, Prime Timesheet, the second-largest time tracking solution on the Atlassian Marketplace, has been recently acquired by Tempo itself.
The way "Timesheet Reports and Gadgets" extends native Jira reporting is by two Reports (apart from the standard Jira Time Tracking Report) and three Gadgets for Jira dashboard, JQL function, and REST endpoint.
It offers 3 highly configurable reports:
It displays a summary of worked hours for a user or group, project or project role, during a week or longer. This report has extensive configuration options, consisting of Filter, Group By Field, and Additional Fields.
It presents a summary of worked hours for a project for a specific period, where columns are project users and rows are project issues.
It shows project development, in addition to the standard Jira Time Tracking Report it allows to group by issue fields or project.
The reports are available in the "Reports" section of a Jira project, titled "Other". They can be exported to Excel or CSV or loaded by REST in JSON format.
The price ranges from 5$ monthly flat fee (for up to 10 users) to $ 0.6 per user a month (in the case of 11-100 users). There's a free 30-day trial.
"Timesheet Reports and Gadgets" is said to be a simple app that fulfills the basic needs of most agile small organizations. Quick to configure and easy to use, it offers the exact amount of functionality for a lightweight timesheet integration in Jira.  Gadgets are said to be very handy and functional and reports are flexible to set up. A minus and a feature that should be upgraded is a scheduled email. Some reviewers claim that emails don't come with a CSV or Excel attachment, which makes them useless for any further processing or reporting.
Summary
It is obvious for users around the world that Jira's in-built time tracking feature is simply not enough. That's why an efficient and intuitive add-on to track hours logged by the team or individual users is a must for every (especially agile) team in their everyday work. With plenty of apps in the Marketplace, it is possible to customize one's time-tracking experience in the most convenient way. If you need extended features like accounts, approvals, and budgeting, you should surely try Tempo Timesheets.  If, on the other hand, you just wish to report on teams and projects, "Timesheet Reports and Gadgets" and "Worklogs – Time Tracking and Reports" seem good options for you. In the case of the latter, pay attention to all the filtering or grouping options that will help you to find necessary worklog details in an intuitive way. Price should be an important decision-making aspect, too.