The Coronavirus threat forced the whole world to stay home to keep us safe from catching the disease. We all faced with the new reality, but the most struggling are businesses.
Let's see how SolDevelo bravely deals with this situation!
It is expected that keeping employees further apart from each other will both hinder the chance of spreading COVID-19 within the group and also reduce the opportunity to catch the virus while commuting or working in crowded office spaces.
Many people all over the world are forced to face those difficult circumstances but, in some ways, it is also a perfect time to obtain new experience.
For us, staying at the home office forms an essential part of the future working environment. And, hopefully, this is an opportunity – however, given in a worrying time – to learn new things.
Organization of work at SolDevelo
To us, it is all about communication. It is quite obvious that there is a difference between collaborating with your team "face to face" and having to communicate with them remotely. Nevertheless, we put special emphasis on getting on well with each other and what affects positively our efficiency at work. What is equally relevant, the communication between us and our clients has not changed and even though the nature of our work is slightly different now, we do not let them feel the difference.
What about our productivity?
In every company, there are some employees whom we can call "early birds" or "night owls" as their working hours are likely to diverge. In that case, our developers admit that flexibility is a crucial factor that enables every person to individually choose the most suitable time to work and, therefore, adapt to the team's work schedule.
Everyone knows what is best for them and what makes them most effective. There are certain principles that our teammates try to stick to, such as taking regular meal breaks, sleeping for a regular amount of hours, getting fresh air regularly, preparing for remote working as if nothing changed and they were still in the office.
HR department

difficulties
In the meantime, let's consider the other part of our teamwork that is the HR department and its way to deal with the challenges of managing a remote workforce. Despite the tech orientation of these challenges, HR can play a mission-critical role: to help ensure that new employees receive the same support at the beginning of their work as in-office colleagues did. For us, it is highly relevant that our newcomers feel like part of the team so we do our best to provide a friendly work environment.
It is well-known that every new employee always has to spend their time on the adaptation, understanding what processes they are supposed to follow, figuring out who does what, and that all before they are able to actually settle in and do their job. It may be quite tough at the current COVID-19 outbreak not only for the newcomers but also for the team leaders who feel strongly responsible for them especially in their first days.
Fortunately, SolDevelo had prepared the solution way before. Organizations suffer when all of their processes, procedures, and practices are located only within their employees' heads. Thus, our comprehensive, user-friendly guide 'SolDevelo Academy' is supplied with all the necessary information that every employee needs to know. It also gives new employees something to review and reference so that they can gain a faster understanding of how the organization works. Even though it may turn out that something is missed by somebody, every employee has endless access to this space that can check it out at any moment. Above all, it is essential that every newcomer has great support not only from their team leaders but also from the rest of our team who are always ready to help with any issue.
Useful tools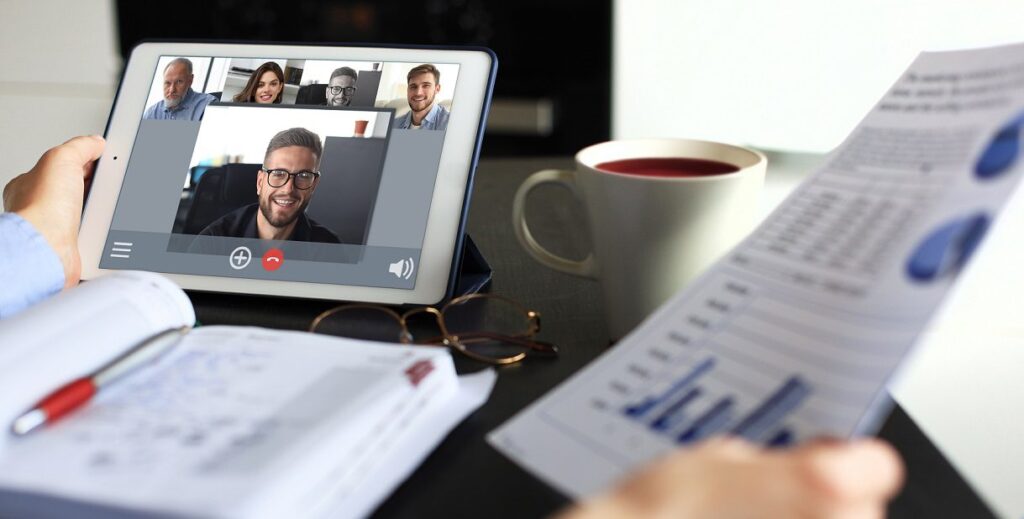 Bearing in mind the current situation in the whole world, it is understood that all the necessary equipment, such as laptops, mouses, headphones, etc. must have been taken home by our colleagues. However, all the equipment, no matter how necessary, is not as essential as other useful communicators.
There are some apps and tools which make working from home a whole lot easier, providing the never-ending opportunity to interact and meet as a team, as it is crucial for maintaining communication and feeling part of the company culture. In order for all the team members to keep in constant touch, we actually use the same communicators as in the company:
Skype and Gmail – Those tools are an integral part of our "Soldevelo spirit". We use them for the daily contact between all employees at SolDevelo in case we suddenly need something from each other.
Google Calendar – This is a very useful tool when it comes to planning some events, meetings, standups and so on – we can always be up to speed and control current affairs.
Slack – We often take advantage of this tool for internal projects but not only. Slack makes it simple to follow conversations or find important information in an easily searchable archive. It also eliminates the need for using emails and other messaging tools for internal communication.
Google Hangouts – That one is truly helpful when it comes to communicating with our clients, we use it very often and take advantage of its features such as video calls, messaging, sharing files, etc.
Microsoft Teams and Zoom – Those tools are used interchangeably by us depending on the issue and current project. Both make our collaboration seamless and efficient, which is very precious for us.
All mentioned collaboration and messaging tools are used by our team are quite similar ways but in different situations. However, efficient planning, implementation of proper policies, and using the right remote-working tools can help all of us overcome the challenges.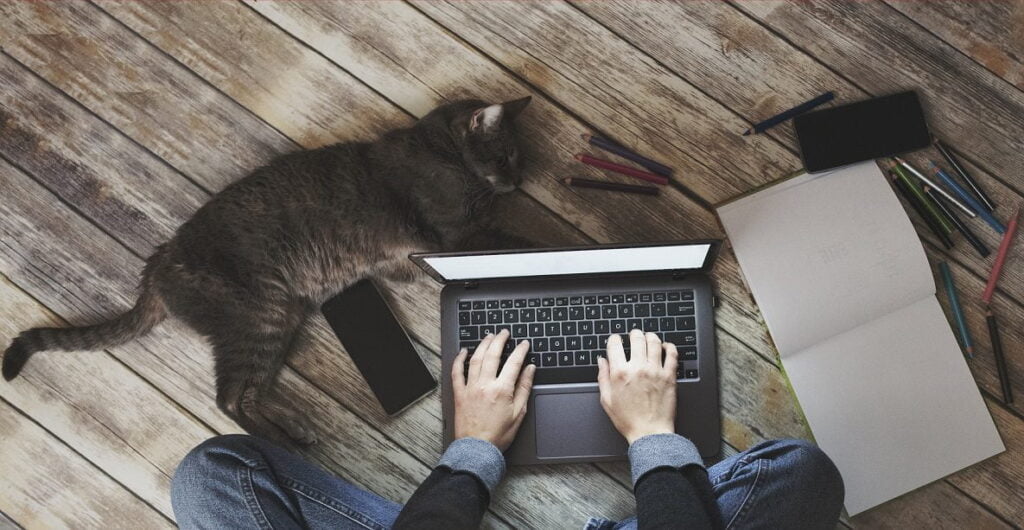 Advantages and disadvantages of remote working – by SolDevelo team
Despite the fact that the present situation has made everybody uneasy, it turns out that it can even become bearable. Of course, everything has its pros and cons. But let's start from the good sides. For most of us, the biggest benefit of remote working is the fact that there is no need to get up earlier in order to get to work. In the end, it is all about getting up and preparing for the upcoming day. It feels great – knowing you do not have to waste your time on commuting.
In spite of how it may seem, remote working can be a good way to keep the employee's productivity at home on the same level as in the office or even increase it. The major issue is to create at home proper conditions required for work which sometimes can take a long time. Working alone at home has its advantages. Some of our teammates admit that it is easier to gather their thoughts and focus their attention entirely on the important issue when they have their own isolated space. When it comes to the results of our work, none of us feels an enormous difference between working in the office and working from home. But on the other hand, we can claim that from a short perspective, we hope not to have to see how it will be after a long time 😉
When it comes to the HR department and sourcing new employees the biggest challenge is no chance to see the candidate 'face to face'. It is far better to meet someone personally than through video-conference, but this is not the only disadvantage. What makes the remote conversation truly hard is interference that occurs during the conversation. Additionally, it may also cause some obstacles when a candidate doesn't have a webcam or when the Internet connection is unstable. Fortunately, all issues, as can be seen, are not so hard to not be overcome.
However, the fact that we are doing well in such a situation does not mean that we are pleased by the current circumstances – there are some drawbacks as well. The inability to meet with each other is probably the biggest disadvantage. Even though we manage to work from our home offices, we really miss the meetings, brainstorming together, collaborating in the real world and of course our ping-pong games! 🙂

Luckily, we continue to hold our Lunch&Learning meetings online, where each of us can propose a topic for discussion. Now when it is impossible to meet at the office we usually use Google Hangouts and additionally some tools for discussion as Trello or Slack. Thanks to these meetings, we feel more integrated and we appreciate it even more than before.
We hope that we will all survive this rough time and come back soon, healthy, with fresh ideas and increased enthusiasm for work!