The wait is finally over. One of the most anticipated Jira features – Jira dark mode – is now in open beta phase, and can be easily accessed by all users. If you're a fan of minimalistic dark themes, this functionality is designed for you. So don't waste another minute, and come to the dark side with Jira!
It's always darkest before the dawn
Dark mode is no longer a fancy option – it quickly becomes a standard. Whether it's for its elegant, minimalistic look, higher attention paid to contrast, more creative approach to design, or simply a personal preference, the concept of dark mode has gathered a large following, and has been enthusiastically welcomed in the Jira community as well.
People were waiting for this feature for years now. The more determined ones came up with a handful of workarounds, such as 3rd party browser extensions, that allowed applying dark mode aesthetics to Jira in your browser. However, such solutions were flawed, not exactly straightforward, and some of them even required payment. You can still find countless questions, discussions and tutorials online, guiding people step by step on how to achieve the desired result by yourself, since the feature was not provided by Jira. Still, many users didn't want to put trust in 3rd party options, and waited for the dark mode feature to be available within Jira.
Hello darkness, my old friend
To address these needs, Atlassian engaged in developing a dark mode feature that would meet the users' expectations and provide a simple solution to their desire for dark aesthetics.
Dark mode feature was first available only in the early access program, but has been recently moved to the open beta phase. It means that you can now easily turn your Jira into a delightfully dark working space, without any additional steps.
To switch to the dark mode, click on the icon of your profile photo in the top right corner of your screen.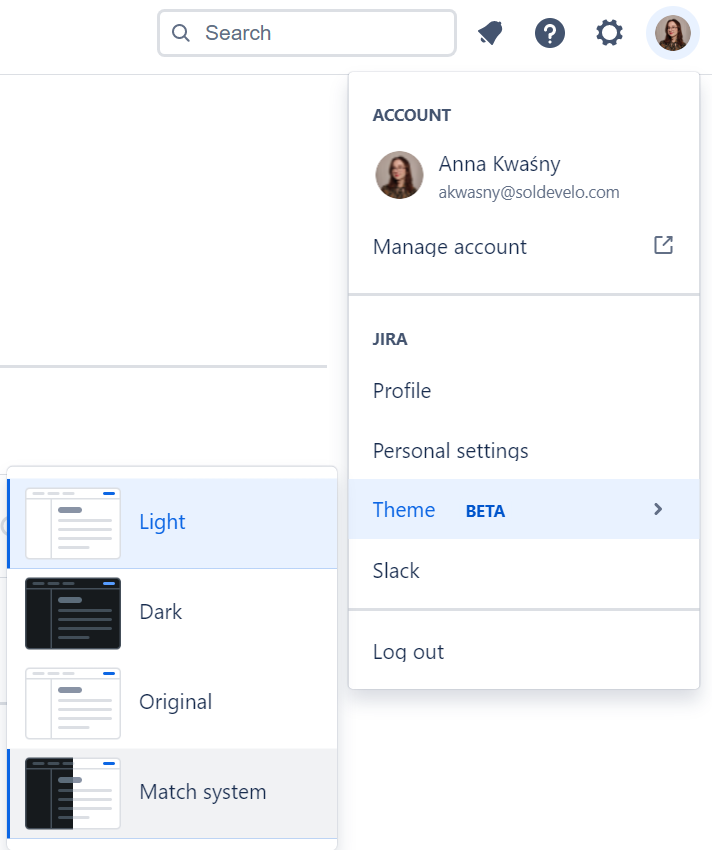 Choose "Theme" and you'll be met with four options: Light, Dark, Original, and Match system. The last option will adjust the theme of your Jira to the theme of your system.
For now, choose "Dark" and enjoy the new elegant color palette. Let your journey with Jira dark mode begin!
Since the dark mode is still in its beta phase, you are very welcome to provide your feedback on the feature so that it can be improved and better answer users' needs.
Jira Marketplace vendors are currently working on dark theme versions of their apps, to be compatible with the new feature. The general availability of Jira themes is scheduled for the middle of 2023. You can find more details here.

Because who doesn't enjoy a little bit of dark elegance in their lives? We certainly do!
The new feature is already available in SolDevelo apps! Check out how well dark mode suits us: here.